Research & Development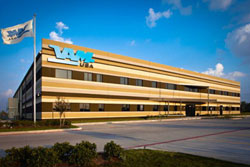 State-of-the-Art facility opened in 2010
VAM® USA is dedicated to the innovation and creation of new products to provide effective and economical solutions for our customers. With over 25 years of R & D experience, benefitting from both V & M and Sumitomo expertise, VAM USA has been supporting customers in extending the current limitations.
The newly industrialized VAM USA R & D Technology Center, located in Houston, Texas, encompasses an extensive array of testing equipment used to simulate extreme well conditions. One of the main objectives is to validate the quality and reliability of VAM connections under field-like conditions per standard ISO 13679 procedures and specific customers' procedures. In addition to these qualification tests, the lab actively participates in the development of new connections and the validation of new products.

VAM Premium Connections are used in the most hostile environments and applications. Operator safety, well life, return on investment, and the environment (onshore or offshore) depend on the quality of our products. Therefore, the performance of VAM connections are validated through full scale physical testing at our R & D Technology Center to fully respond to those requirements.

Sample Preparation
Sample preparation is a vital component for development and validation of new products. This critical process includes design, threading, gauging, and surface finishing producing test specimens to the highest tolerances representing the worst case scenarios in the field.

Make and Break
VAM USA can perform make up and break out simulations that validate the seal sensitivity and galling sensitivity of VAM premium connections under critical conditions.

Combined Loads
The VAM USA load frames have the ability to simulate combined loads (tension or compression) under high internal or external pressure.

Bending
VAM USA has testing equipment that can simulate combined loads with bending.

Elevated Temperature
VAM USA can perform all simulations including thermal cycles at ambient or elevated temperatures.

Fatigue Life
VAM USA can perform fatigue tests that are required to assess the fatigue life of any VAM premium connection.

These extensive testing standards provide assurance to our North American customers that our premium connections have been physically tested beyond their stated capabilities and secure VAM as the global leader in premium connections.
The quest to find and recover new oil and gas reserves has never been more challenging. As well conditions progressively become more hostile; VAM USA is ever more committed to designing premium connection solutions.