Safety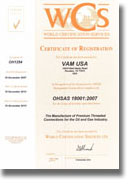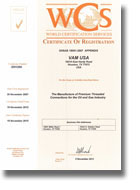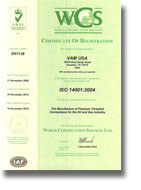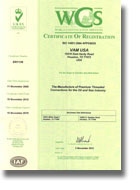 Health, Safety & Environmental
At VAM North America, we honor our Commitments…
Management has committed to our employees, their families, and our customers, that we will provide a safe working environment.
Employees have committed to their families, to VAM North America, and to our customers, that they will work in a safe manner.
Health & Safety
Our Commitment:
Establish objectives that promote continual improvement toward zero incidents and injuries.
Demonstrate active and visible commitment, and ensure effective communication and training to provide for the safety and health of our employees.
Management considerations to Health and Safety, including identifying and controlling risks into our operational decisions.
Establish goals and provide for regular audits and inspections to determine the effectiveness of our Health and Safety management systems, and ensure that annual performance evaluations address individual contributions to our Health and Safety efforts.
Ensure compliance with applicable legislative and relevant industry standards.
Provide appropriate resources to implement this policy, including making it available to employees and contractors.
Environmental
Our Commitment:
Endeavor to protect the quality and diversity of our environment by continuous improvement of our Environmental Management System.
Compliance to all applicable local, state, and federal regulatory requirements, and work to exceed community expectations in the areas in which we operate.
Educate and train our employees, suppliers, and contractors to be knowledgeable about our Environmental Management System.
Periodically review our activities and measure our performance using objectives and targets, system audits and management reviews to assist in achieving these commitments.