Quality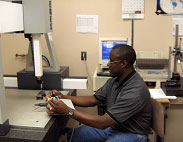 VAM North America is committed to the highest quality standards in its products and services.
Certified to ISO 9001:2008 standard, our Quality Management System assures our customers of a first-class System. It is structured to provide customer satisfaction with robust product specifications and requirements, documentation and service. This performance based Quality Management System focuses on long term goals and continuous improvement.
All employees are involved in maintaining and following the integrated Quality Management System to avoid non-conformance and maximize performance at all levels.
VAM facilitates a policy through the Quality Management System with the following objectives:
Ensure customer satisfaction by providing products and services that consistently meet their needs and expectations.
Recognize outstanding Quality performance by our employees.
Proactive integration of Quality objectives into Management Systems at all levels.
VAM North America products are produced by skilled employees and inspected to strict written requirements. Statistical Process Control is utilized in production and is applied directly on the shop floor for enhanced process control to ensure greater product value and performance for the Customer.
Productive capability is augmented by an approved and qualified subcontractor and licensee network.  This network is supported by our quality and technical groups within our organization. Each subcontractor and licensee are trained, audited and constantly evaluated to ensure consistent product integrity and procedural compliance.
Quality within the VAM North America organization is the responsibility of every employee, and is maintained by a continual and consistent effort. This attitude is the foundation for providing superior performance and value to guaranty our customers' satisfaction.