Facilities
Threading facilities network
The VAM® North America manufacturing facilities are strategically located in Houston, USA, Veracruz, Mexico and two locations in Canada for a complete response to our customers needs.
They are equipped with highly efficient CNC lathes capable of producing tubulars, couplings and accessories for the oil and gas market to the tightest of tolerances demanded by premium connection applications.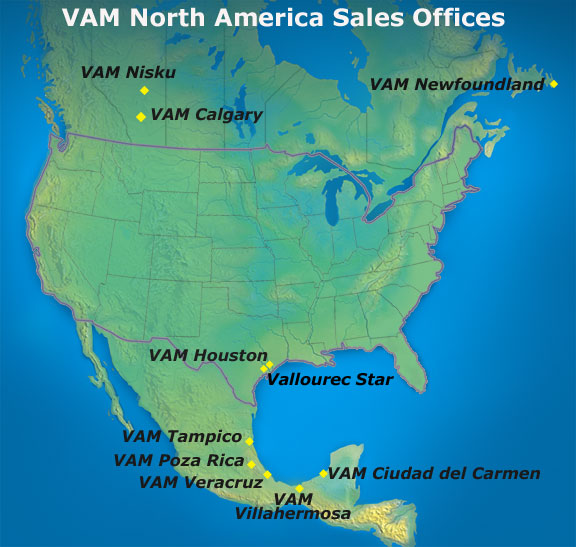 VAM® USA
VAM® USA is a leader for "super premium" connections for difficult applications such as very deep wells, including threaded and coupled tubing and carbon or stainless steel casing.
VAM® USA has also developed its offerings in Flush or Semi Flush integral joints in response to the fast-growing market of premium connections.
VAM® USA performs on-site product qualification tests at its own state of the art test center.
To complete its customer service, VAM® USA also offers extensive field service and technical sales teams that follow up projects in North America and worldwide.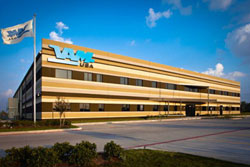 Headquarters and Plant
19210/19214 E Hardy Rd
Houston Texas 77073 (USA)
Tel. : +1 281 821 5510
Fax : +1 281 784 5644
Other Houston Locations
VAM USA - Miller Rd
16031 Miller Rd No.1
Houston, TX 77049-1804
Tel: +1 281 784 5611
VAM USA - TuboNorth
10222 N Sheldon Rd, Bldg C4
Houston, TX 77049
Tel: +1 281 456 6134
Fax: +1 281 456 0254
Youngstown Ohio
VAM USA - Youngstown
1053 Ohio Works Dr.
Youngstown, OH 44510
Tel: +1 330 742 3130
VALLOUREC OIL & GAS MEXICO SA de CV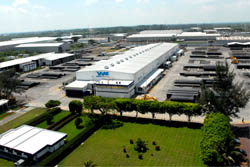 The company was created in 1981 to serve the domestic market and became part of the Vallourec Group in 1993.
Vallourec Oil & Gas Mexico SA de CV, headquartered in Veracruz, leads the market in the field of premium joints. It also produces thread protectors for the needs of the OCTG Division, which have notably increased since the acquisition of Vallourec do BRASIL pipe mill. Additionally, the company has developed major business activities in the on-site service sector.
Additionally, the company has developed major business activities in the on-site service sector.
Veracruz
Plant and Sales & Service Headquarters
Av. Framboyanes lote 6 manzana 5
C.D.Ind. Bruno Pagliai,
Tejeria, Veracruz C.P. 91697
Tel: +52 229 989 8716
VALLOUREC CANADA INC.
Created in 1983, Vallourec Canada Inc.'s first facility is located in Nisku, an industrial suburb of Edmonton Alberta. This key location is central to the majority of markets supported by Vallourec Canada Inc. and is the primary stock point for OCTG.
The company focuses on deep sour gas wells using VAM® TOP, VAM® SLIJII, VAM® FJL and the heavy oil – steam injection wells that use VAM® SW, specially developed for this application. Its field service office in St. Johns Newfoundland supports the Canadian offshore market.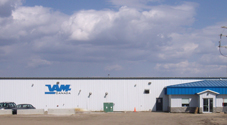 Alberta Plant
2107 - 9th Street
Nisku, Alberta T9E 7Z7 (Canada)
Tel. : +1 780 955 83 50
Fax : +1 780 955 83 55
Newfoundland Plant
10 St. Anne's Crescent
Paradise, Newfoundland A1L 1K1 (Canada)
Tel. : +1 709 782 1450
Fax. : +1 709 782 1451
Other North America solutions:
Seamless Tubular Products
Vallourec Star
Accessories
V&M Tube alloy