VAM TOP HT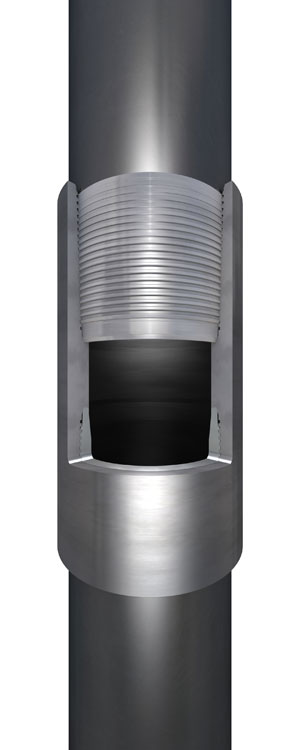 VAM TOP HT (High Torque) is a T&C connection based on the main features of the VAM TOP connection. This connection provides reinforced torque capability for liners and where High Torque is anticipated due to string rotation during running operations (torque rotating liner while running, rotating casing when cementing)
BENEFITS
Excellent torque capability (Improved with regards to VAM TOP one)
Excellent gas-tight sealing under combined loads
Excellent resistance to bending
Excellent resistance to external pressure and compression
Easy to use and repair
New Metal-to-Metal Seal
A patented metal-to-metal seal system offers excellent gas tight sealing from 4 1/2" to 7", even under the most severe combined loads.
Sealing integrity remains constant despite repeated make-up and break-out.
Seal geometry protects against galling.
Reverse Angle Torque Shoulder
A reverse angle torque shoulder provides a positive torque stop which allows for accurate power tight make-up and minimizes hoop stresses in the connection.
The wedge effect caused by the reverse angle gives the connection superior structural strength.
The shoulder design was optimized in order to resist adverse conditions such as combined compression and external pressure or combined bending, compression and torque.
The torque shoulder dimension on VAM TOP HT is significantly larger than VAM TOP which enables the connection to withstand combined load for various applications using high torque (See the corresponding gas tight VME Performance Envelope).
Improved Hook Thread Design
A modified hook thread profile, with -3° reverse angle on the load flank not only provides the connection with superior tension strength but also increases its resistance to compression.
The excellent structural strength including the increased bending and compression resistance, makes this connection especially suited for highly deviated and long horizontal wells.
Optimized thread geometry minimizes the risk of galling even when thread lubricants are poorly applied.
Coupling Design
Coverage of the vanishing threads, long internal shoulder, and coupling critical cross sections greater than those of the pipe body, contribute to a high performance, 100% efficient connection.
Streamlined Internal profile
A 6° pin ID chamfer, tight tolerances on the coupling center and a long shoulder combine to minimize turbulence and energy loss inside the connection for high velocity gas flows.