BIG OMEGA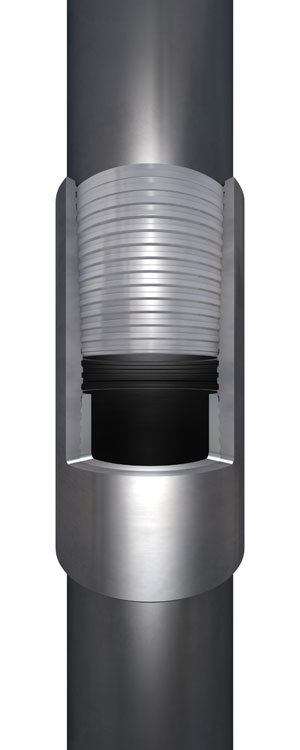 Design principles and technical features
Big Omega Casing can be delivered in ODs ranging from 14" to 26" and in lengths corresponding to API ranges 2 and 3 (including pup joints).
Big Omega is a coupled connection. The pin thread is cut directly into the pipe. The risks associated with weldon connectors are eliminated. Standard coupling ODs are identical with API; they may be increased for higher grades and larger wall thicknesses if matched internal pressure resistance is required. The standard coupling length is 10 5/8" (269,9 mm)as with API.
A further advantage of Big Omega Casing as a mill threaded pipe is its availability in the quenched and tempered condition in both API and V&M special grades. Big Omega Casing possesses the rugged V&M developed thread profile featuring :
3 TPI versus Buttress 5 TPI
Taper 1:7.5 versus Buttress 1:12
Bearing flank perpendicular to thread cone
Stabbing flank 30?
Crests and roots parallel to cone
Thread height 0.0846 in. (2,15 mm) versus Buttress 0.062 in. (1,57 mm)
This thread stabs easily and quickly and cross-threading is practically limited. Power make-up is faster than with Buttress.( Just 2 turns after hand-tight position). An internal torque shoulder may be provided whenever high axial compression loads are to be expected.