VAM HTF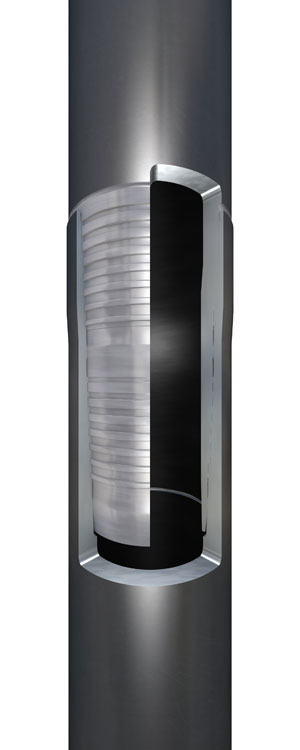 VAM® HTF (High Torque Flush) is a true flush OD and ID integral connection providing maximum clearance
along with superior torque strength for challenging applications such as drilling with casing, liner rotation
to achieve better cementation in highly deviated and critical High Pressure/High Temperature wells.
Benefits:
Proven gas sealability
Maximum clearance (100% flush)
Superior rotational capability
User friendly
ISO CAL-IV qualified
Reliable EP integrity
Integral flush design
VAM® HTF is an integral connection threaded on plain-end pipe where the OD of the connection totally flush with the pipe body.
Current available sizes range from 4-1/2" to 9-7/8" for applications such as drilling with casing, production liners, drilling liners and liners requiring rotation.
Maximum torque strength
The high torque strength of VAM® HTF permits pipe rotation in deviated holes without fear of structural failure.
Multiple metal-to-metal seal system
An external and internal metal-to-metal seal work independently of each other to achieve 100% sealability against annular and well bore pressures.
The gas-tight sealing integrity has been tested and proven under the most severe qualification, ISO13679 CAL-IV.
Streamlined internal and external profile
The connection OD and ID are 100% flush to the pipe body.
The ID is bored.
The OD is turned to flush OD dimension.
Repairable by VAM® licensed workshops with minor pin-end swaging and box-end expansion prior to threading.
VAM® HTF (High Torque Flush) is a true flush OD and ID integral connection providing maximum clearance